The incident characterizes the unbridled Russophobia embraced by Prime Minister Justin Trudeau's government, the ministry said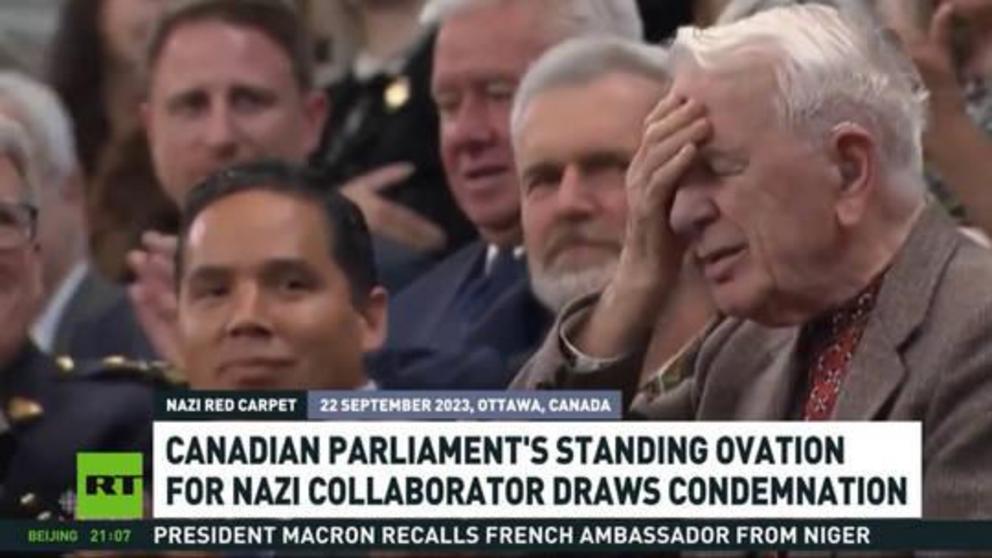 The Canadian Parliament's public celebration of a Ukrainian Nazi veteran last week is a cynical abuse of the memory of the victims of Nazism and an example of the blatant Russophobia embraced by the Canadian government, Russia's Foreign Ministry said in a statement published on Tuesday.  
The message comes after the Canadian House of Commons on Friday gave a standing ovation to 98-year-old Yaroslav Hunka, a member of the 14th Waffen Grenadier division of the SS, which was responsible for countless war crimes during the second half of World War II. The commemoration took place during a visit by Ukrainian President Vladimir Zelensky. 
The Russian Foreign Ministry stated that the incident was "the best possible way to characterize the regime of Prime Minister Justin Trudeau, who has embraced unbridled Russophobia."
After facing backlash from Jewish and Polish communities over the incident, House Speaker Anthony Rota apologized for inviting the Nazi veteran, while Prime Minister Justin Trudeau described the situation as "profoundly embarrassing." 
READ MORE: Poland wants Canada's House speaker out after honoring Ukrainian Nazi
The Russian ministry stressed, however, that despite Canada's apologies, "the fact remains that the ultra-liberal ideology propagated in Canada and permeated with hatred for Russia, its culture, religious and traditional values, essentially has the same roots as Nazism." 
 Canada saluting a Ukrainian Nazi was no coincidence
Moscow added that it was "no coincidence" that Canada has monuments to Ukrainian nationalist leaders while the government allows the overwhelming majority of Nazi veterans like Hunka, who was granted asylum in Canada after the end of World War II, to live out their days "in safety, honored and cared for (in particular, by Deputy Prime Minister Chrystia Freeland) as 'fighters against Russian Communism.'" 
The ministry concluded its statement by stressing that the "hostile actions" of the Canadian government, such as the continuous expansion of anti-Russian sanctions and blacklists of Russian nationals will not be left unanswered and that Moscow will not tolerate the fact that "Canadian liberals are flirting with Nazism." 
"We expect that healthy forces in Canadian society will speak out against the 'Nazification' of history and daily life encouraged by the country's officials, which goes hand-in-hand with aggressive Russophobia," it said.