Hungary's Viktor Orbán has long been an opponent of the mainstay of EU policy on Ukraine, having also persistently criticized Kiev for discrimination against Hungarian minorities, and demanding that a 2017 law restricting the use of minority languages be changed. He's also refused to ratify Sweden's entry into NATO.
Orbán has further throughout the conflict stood against policies which escalate against Moscow, and has constantly warned against stumbling into a WW3 scenario involving direct NATO-Russia clash. He told Tucker Carlson in a recent interview that "the Third World War сould be knocking on our door so we have to be very careful." With Budapest having been a consistent thorn in the side of the EU, Brussels now wants to pay the Hungarians off.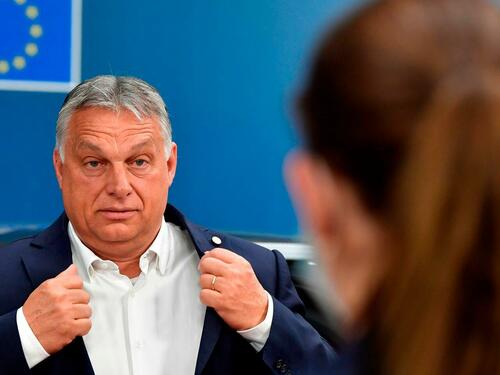 "The European Commission is preparing to unfreeze around €13 billion in funds for Hungary to try to avoid Prime Minister Viktor Orbán vetoing EU aid for Ukraine, in a move likely to draw criticism from the European Parliament," Politico reports Tuesday.
"The Commission needs the unanimous backing of the bloc's 27 countries for an update to the EU's long-term budget, which includes a €50 billion funding pot for Ukraine," the report adds.
Akin to what's currently going down in Washington with a group of Republicans holding up Ukraine funding, Brussels may soon have its own Ukraine aid blockage problem. EU aid for Kiev which was previously approved runs out in December, hence the urgency for EU leadership in wanting to push through a new package.
A week ago, Orbán gave a speech declaring Hungary will no longer support Ukraine in any way unless certain significant policies are changed both in Kiev and in the European Union.
He stressed in the words given before parliament that "Hungary is doing everything for peace" but that "unfortunately the Russian-Ukrainian war continues, tens of thousands of people are victims." Thus, he continued, "Diplomats must take control back from the hands of the soldiers, otherwise it will be in vain for women to wait for their sons and fathers and husbands to come home."
The Hungarian leader has stood against ratcheting Western sanctions on Moscow, instead choosing to maintain a generally positive diplomatic relationship with the Kremlin.
He also a week ago charged that Kiev and its backers have cheated Budapest by "Ukrainian grain dumping" into his country. He had also laid out, per The Hill:
… that he was protesting a 2017 law in Ukraine that limits ethnic Hungarians from speaking their own language, particularly in schools and said Hungary would not support Ukraine on international issues "until the previous laws are restored."
Needless to say EU officials are panicking, and are readying a lucrative quid pro quo with Hungary (based on freeing frozen funds related to the prior years' so-called "rule of law" punitive measures"), so that EU aid to Ukraine doesn't get blocked at a crucial moment that Washington funding is drying up.