Nils Melzer, the UN Special Rapporteur on Torture
 – «I have never seen a comparable case»
«A murderous system is being created before our very eyes»
A made-up rape allegation and fabricated evidence in Sweden, pressure from the UK not to drop the case, a biased judge, detention in a maximum security prison, psychological torture – and soon extradition to the U.S., where he could face up to 175 years in prison for exposing war crimes. For the first time, the UN Special Rapporteur on Torture, Nils Melzer, speaks in detail about the explosive findings of his investigation into the case of Wikileaks founder Julian Assange.
An interview by Daniel Ryser, Yves Bachmann (Photos) and Charles Hawley (Translation), 31.01.2020
Kommen Sie zur Republik! Unser digitales Magazin arbeitet unabhängig: keine Werbung, keine Klick-Wirtschaft, keine Kompromisse bei der Qualität. Dafür brauchen wir Sie als Abonnentin oder Mitglied!
«Vor unseren Augen kreiert sich ein mörderisches System»
Hier finden Sie das Interview in der deutschsprachigen Originalversion.
1. The Swedish Police constructed a story of rape
Nils Melzer, why is the UN Special Rapporteur on Torture interested in Julian Assange?
That is something that the German Foreign Ministry recently asked me as well: Is that really your core mandate? Is Assange the victim of torture?
What was your response?
The case falls into my mandate in three different ways: First, Assange published proof of systematic torture. But instead of those responsible for the torture, it is Assange who is being persecuted. Second, he himself has been ill-treated to the point that he is now exhibiting symptoms of psychological torture. And third, he is to be extradited to a country that holds people like him in prison conditions that Amnesty International has described as torture. In summary: Julian Assange uncovered torture, has been tortured himself and could be tortured to death in the United States. And a case like that isn't supposed to be part of my area of responsibility? Beyond that, the case is of symbolic importance and affects every citizen of a democratic country.
Why didn't you take up the case much earlier?
Imagine a dark room. Suddenly, someone shines a light on the elephant in the room – on war criminals, on corruption. Assange is the man with the spotlight. The governments are briefly in shock, but then they turn the spotlight around with accusations of rape. It is a classic maneuver when it comes to manipulating public opinion. The elephant once again disappears into the darkness, behind the spotlight. And Assange becomes the focus of attention instead, and we start talking about whether Assange is skateboarding in the embassy or whether he is feeding his cat correctly. Suddenly, we all know that he is a rapist, a hacker, a spy and a narcissist. But the abuses and war crimes he uncovered fade into the darkness. I also lost my focus, despite my professional experience, which should have led me to be more vigilant.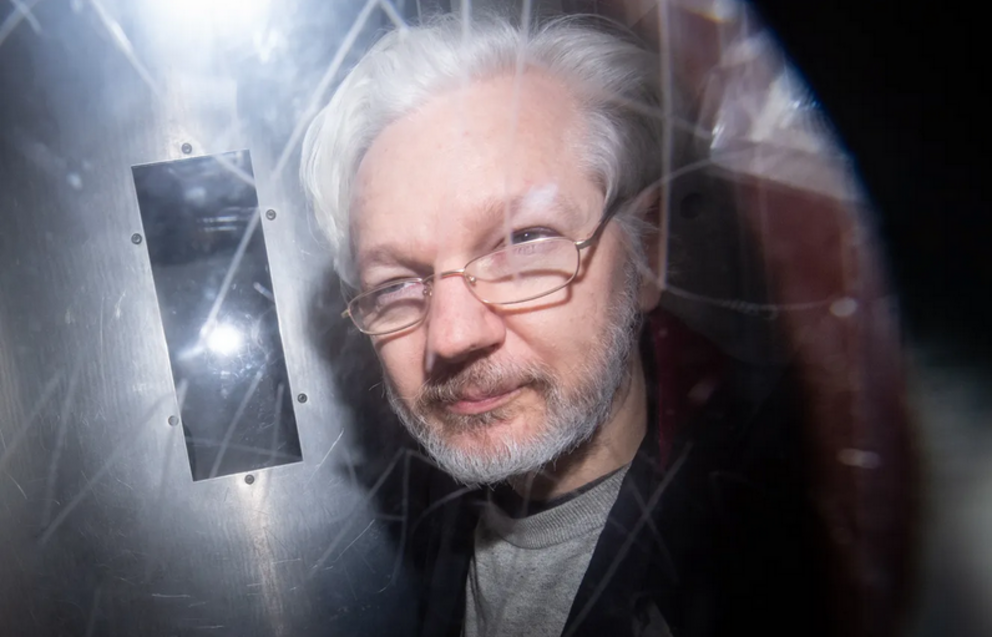 Fifty weeks in prison for violating his bail: Julian Assange in January 2020 in a police van on the way to London's maximum security Belmarsh prison. Dominic Lipinski/Press Association Images/Keystone
Let's start at the beginning: What led you to take up the case?
In December 2018, I was asked by his lawyers to intervene. I initially declined. I was overloaded with other petitions and wasn't really familiar with the case. My impression, largely influenced by the media, was also colored by the prejudice that Julian Assange was somehow guilty and that he wanted to manipulate me. In March 2019, his lawyers approached me for a second time because indications were mounting that Assange would soon be expelled from the Ecuadorian Embassy. They sent me a few key documents and a summary of the case and I figured that my professional integrity demanded that I at least take a look at the material.
And then?
It quickly became clear to me that something was wrong. That there was a contradiction that made no sense to me with my extensive legal experience: Why would a person be subject to nine years of a preliminary investigation for rape without charges ever having been filed?
Is that unusual?
I have never seen a comparable case. Anyone can trigger a preliminary investigation against anyone else by simply going to the police and accusing the other person of a crime. The Swedish authorities, though, were never interested in testimony from Assange. They intentionally left him in limbo. Just imagine being accused of rape for nine-and-a-half years by an entire state apparatus and by the media without ever being given the chance to defend yourself because no charges had ever been filed.