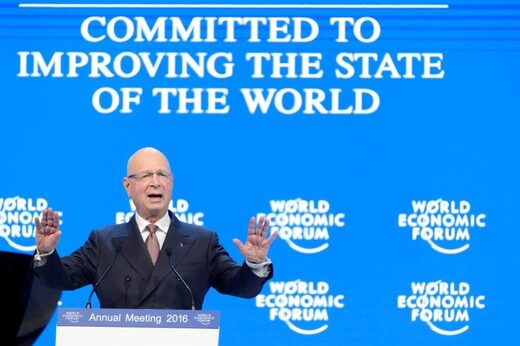 Sky News host Rowan Dean says the next World Economic Forum in Davos has morphed from a "jet-setter climate gabfest" into a sinister "anti-democratic enterprise designed to destroy your job, steal your prosperity and rob your kids of a future".
"It's a hardcore leftist eco-horror show replete with quasi-fascism," he said. Mr Dean highlighted what he described as a "disturbing trend among many of the world's left-wing elites to increasingly conflate COVID-19 with climate change. Many are going so far as to suggest that all the measures applied to the coronavirus, the lockdowns, the destruction of businesses, the suppression of dissent, curfews, strong-arm police tactics, should become the 'new normal' for dealing with climate change."
Mr Dean said the next World Economic Forum is planning "to convince governments with the help of big businesses and big tech to bring about something deeply sinister called 'The Great Reset'. It is a program designed to strip us all of our fundamental democratic rights in favour of a new form of society as dictated by the elites."
Mr Dean said the advertising for 'The Great Reset' was "just about as cliched and vomit-inducing as the most inane corporate ad can be. This promo is saying that all the very worst things in the world, from the coronavirus to bushfires to riots to pollution to poverty are somehow linked. Then it is claiming they can magically disappear. Literally at the push of a button and just like that, everything in the world is made right and pure again. The Great Reset. What could be simpler?
Mr Dean said ultimately "lunatics including Prince Charles and the United Nations and the IMF want to replicate the global response to COVID and repurpose it for climate change, to enforce zero net emissions."
Comment:
Schwab indeed sounds clownish. And yet he is head honcho when 'the Davos set' meet annually. He is also a retired member of the
Bilderberg Steering Committee
.
It's all (pretty much) out in the open now (which is why it's 'safe' for a Rupert Murdoch-owned media corporation to air such 'conspiracy theory' dissent).
Covid-19 was never about Covid-19, which is just another mild respiratory illness (albeit one that appears to have begun its life as a half-baked genetically-modified lab virus).
Covid-19 is about 'the climate agenda' – inducing, corralling or otherwise enforcing total compliance with 'global governance', their preferred term for One World Government.
Quite where the orders emanate from is not yet clear, but it is clear – given that diverse national governments are rolling out precisely the same lunatic 'Covid-19 measures' in lockstep with each other – that the orders are centrally disseminated.
Regular readers know that we have been warning about the likelihood of increasingly extreme weather and increasing numbers of meteor fireball events presaging a period of global mayhem – possibly culminating in ice age conditions – in which all will feel the effects of food shortages and systemic upheaval.
If we have known about this for the last two decades, then it's a safe bet that they have some idea of what's coming. There are differences of course; throughout, they have been telling only half-truths (which amounts to lying by omission): climate change isn't man-made, and its effects won't be felt 50 years hence when some coastal cities gradually submerge under warming oceans.
No, it's a natural cyclical phenomenon, and its effects are ramping up now. While they continue to lie by omission and cloak what they know in ideological verbiage, the 'elites' at the very least are united by a sense of urgency in 'doing something now, before it's too late'.
But their 'solutions' to anticipating the coming threat to their lofty positions are entirely self-serving. They seek to 'lock it all down' in order to – they believe – be able to 'better manage' the crisis when it fully develops in the coming years. Covid-19 is about 'training' the population, ahead of time, to believe that only dependency on government can 'save' them…